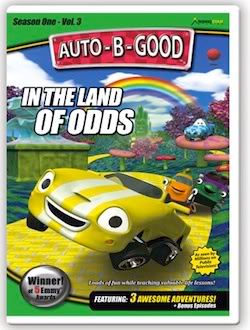 if you are like me and sometimes question the content and values expressed by the cartoons on tv, then you will like the
auto-b-good, in the land of odds, dvd
, put out by
rising star studios
.
this dvd (
$7.99
) has three episodes that each focus on an important moral or life lesson. in the first one, johnny equates being dependable with being boring. the "land of odds" quickly convinces him that dependability can be a good characteristic for everyone.
in another episode, cali gets a job so she can have more money for her true love--shopping. the problem is, she shifts the responsibility onto her friends with disastrous results. as a result, she learns the value of following through responsibly on a commitment.
in the last episode, the cars learn the value of goodwill as they see if "one small thought" can hold together their friendships.
this dvd also includes two bonus episodes that highlight the values of "consideration" for others and "obedience" to the rules.
the girls loved watching this dvd. zoe (age 7) has even asked to watch it again. i thought my two-year-old would sit enraptured, given his love for the movie
cars
. somehow, his interest didn't last for long. i would probably just show him one episode at a time in the future--even though the total dvd running time is about 50 minutes, he would probably enjoy a shorter viewing time better. it makes sense that the recommended age for this dvd series is ages 3-7.
for me, while i didn't find the plot lines and character development completely gripping for myself, it was nice to know that i was letting the kids watch something that had good values. in fact, later in the day, after they watched the video i was able to refer to the episode on "goodwill" as we talked about assuming the best about others, instead of immediately believing the worst about their intentions and actions.
if you want to take a look for yourself, check out the video on
youtube
. if your kids like what they see, they can have more fun on the
auto-b-good website
, where they can join the "
car club
" among other activities.
this is a mama buzz review. i received a complimentary copy of the dvd from rising star studios for the purpose of doing this review. the opinions expressed here are entirely my own.