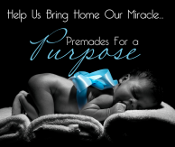 since i started blogging, i have learned how important it is to me to have a blog background that uniquely reflects my personality. my first background was one of the few blogger choices and was okay, but not great. then i discovered
lena toews'
backgrounds and i feel like i always have plenty of choices to reflect my mood, my personality and my topics.
since i began using the free blog backgrounds lena offers, she has started creating
premade (backgrounds) for a purpose
. after dealing with the pain of multiple miscarriages, she and her husband decided to take the path of adoption as a way to expand their family. i'm sure you have heard, if not experiencing for yourself, just how expensive the adoption process is. lena offers backgrounds at $5 apiece (plus $1 for photo processing) to help cover the cost of bringing home their new family member.
on her site, she offers
premade backgrounds
that reflect a variety of seasons and personality types. she also has
customizable premade backgrounds
to raise money for her adoption. if you are an html illiterate, she has tutorials to help walk you through your blog transformation, step-by-step.
recently, she also added
premade birth announcement photo cards
. if you have been looking for a birth announcement from us, we will be getting one out as soon as we can choose one from lena's incredible selection. she will place the photos for you and then you can take it to your favorite photo spot to print them out.
as if that weren't enough, she has
premade christmas photo cards
coming soon. knowing us, we'll be getting our christmas card out about the time lilianna celebrates her first birthday!
if you can't find anything that suits you exactly, lena also does
customized backgrounds
and
customized cards
($30).
lena's tutorials have helped me change my blog background multiple times. i have also used them to make my own blog badges as well. she has been incredibly helpful anytime i have emailed her with a question so i can attest to her quality customer support services!
i think that all of these options are an incredible bargain that go for an incredible cause. lena is so generous to share her artistic talents and gifts with those of us who are not so talented. she is also generous enough to offer you all the opportunity to win a background or photo card for yourself. to enter to win, please go to her
website
and look around at all she has to offer. then, come back here and leave me a comment telling me which photo card or background you would choose. i will pick a winner from the comments using random.org on october 31. if you make a donation toward her adoption (
here
) or purchase a premade background or birth announcement card, you can have an extra entry. just leave an additional comment letting me know.
i am more excited about this giveaway than any of my others because i want to do all that i can to contribute to the toews' adoption. letting you all know about it seems like a very small thing to do to help. i hope you will do what you can as well to help the toews' reach their goal.
i received absolutely nothing in exchange for doing this post except the joy of doing something to help out someone else for a good cause...